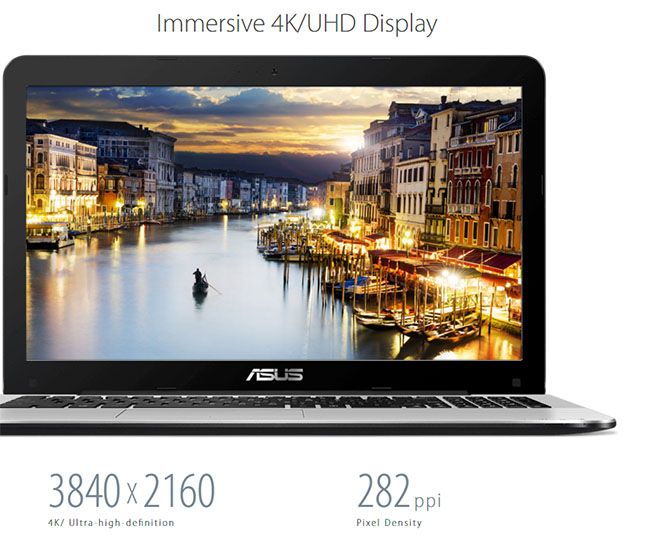 ASUS
VivoBook 4K laptops feature a 4K/UHD (3840 x 2160) resolution display with a pixel density of 282
pixels per inch (PPI). Whether you're perusing through your photo albums, browsing the web, watching movies,
or playing games, you'll be immersed in astonishing visuals.

The displays found ASUS VivoBook 4K laptops have twice the number of horizontal and vertical pixels to
give you over 8 million pixels – four times the pixel density of standard Full HD displays. Photos, videos,
and even the tiniest text are crisper and sharper than ever before.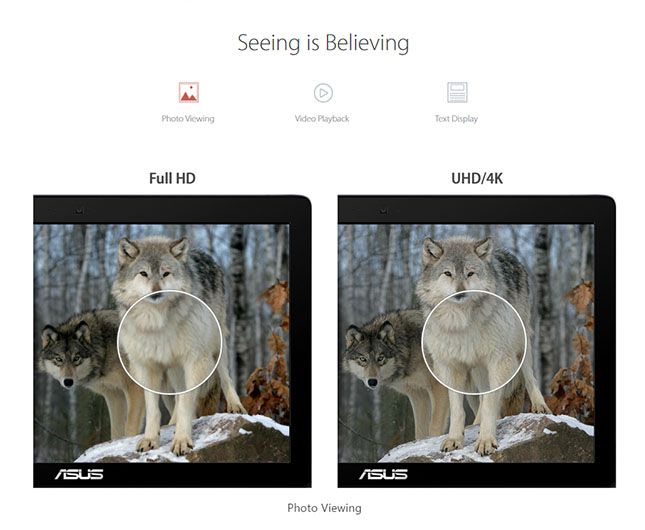 The stunning 4K/UHD display gives your eyes a visual treat, whether you're reading text, viewing photos or
watching videos. The amazing resolution makes photo or video editing so much easier, with every tiny detail
pin-sharp and crystal-clear. And when you're web browsing, everything —even the smallest text — is easily visible!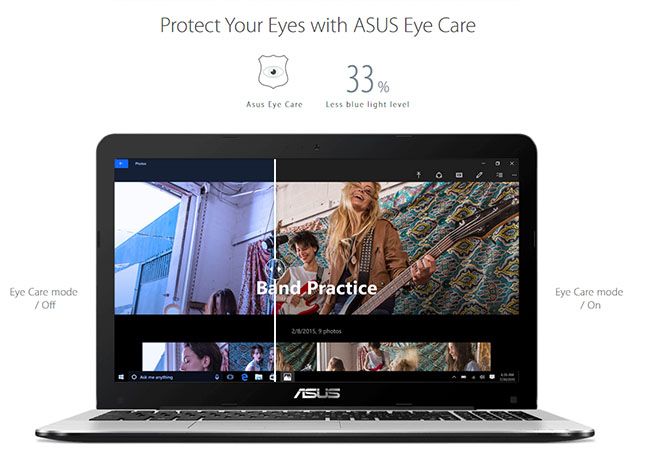 Most LED panels emit blue light - the main cause of macular degeneration and retinal problems.
ASUS Eye Care mode effectively reduces blue light levels by 33% to make reading comfortable, and
to protect you from potential eye fatigue and other ailments.
To ensure only the very best images, ASUS Splendid Technology has color temperature correction to
reproduce richer, deeper colors.
It features four visuals modes which can be
accessed
with a single click. Vivid Mode optimizes contrast
for browsing photos or watching videos and movies; Eye Care Mode reduces blue light levels and is ideal
when you're reading for long hours. Normal Mode has been tuned for daily tasks; while Manual Mode is
for advanced color adjustments.
The display used in VivoBook 4K has a wide color gamut (72% NTSC, 100% sRGB, and 74% Adobe RGB)
to give you a kaleidoscope of colors that are more vivid and accurate than those found on standard displays.
The display uses In-Plane Switching (IPS) technology to give you wide 178° viewing angles, so there's no color
shift even when viewed from the sides.

ASUS VivoBook 4K turns heads with its simple minimalist lines and premium
brushed metal
finish, and is equally
ideal for use at home or in the workplace. If you look a little closer, you'll notice exquisite touches like sand-blasted
surfaces around the keyboard, a spun-finished power button, and diamond-cut detailing around the touch pad.

ASUS VivoBook 4K has a Li-Polymer battery that gives you up to 700

charge

cycles — 2.5 times the lifespan
of standard Li-ion cylinder batteries. On top of that, a Li-Polymer battery retains up to 80% of its originalcharge
capacity even after hundreds of charge cycles so you won't have to worry about deteriorating battery performance.
Thanks to a clever combination of hardware and software optimization, the battery adheres to the highest battery
safety standards and gives you optimal charging performance to prolong its lifespan.


ASUS VivoBook 4K features up to 5th and 6th-generation Intel® Core™ i5 processors to give you smooth and responsive computing performance. This processing performance, coupled with NVIDIA graphics, an advanced onboard memory controller, 4GB RAM, and Windows 10 make VivoBook 4K ideal for daily computing. You can even choose up to 1TB HDD storage or upgrade to a solid-state disk (SSD) for faster data access.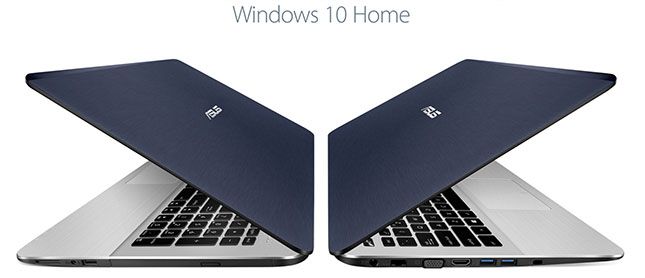 ASUS VivoBook 4K boasts up to NVIDIA® GeForce® 940M discrete graphics to give it the visual prowess to
tackle graphically-demanding tasks with ease. And when you put that together with a high color
accuracy
4K/UHD display, VivoBook 4K lets you watch movies, play games, or edit photos and video in all their full-colored
glory.
ASUS VivoBook 4K gives you a wide array of connectivity options that include USB 3.0, HDMI and VGA ports,
a 3-in-1 SD/SDHC/SDXC
card
reader, and more to ensure compatibility with various peripherals and devices.
USB 3.0 gives you 10 times the speed of USB 2.0, so you can transfer photos, music, and even large video
files in a fraction of the time — transferring a 25GB Blu-ray quality movie takes a mere 70 seconds.
TECH SPECS
Model
:
Asus VivoBook 4K VM590UB-FI191T