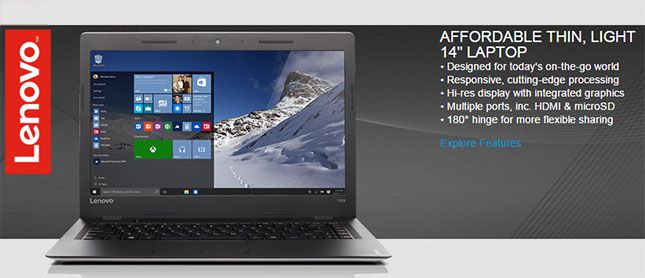 It is the familiar feel of Windows, only improved. The Start menu is back, better than ever.
Expand it, customize it, make it yours. Work with more of the devices you care about,
such as printers, cameras, and USBs. Boot up and resume quickly with technologies
like InstantGo. And enjoy additional security features that help to safeguard you against
device theft and malicious software.
Intel Core i Series Processors
Enjoy cutting-edge processing with the latest Intel® Core™ i Series processors.
Engineered for Value
Delivering great value without sacrificing on performance, the 14" Ideapad 100S is
easy to use and has a 7-hr** battery life. It also comes with a very affordable price tag.
Very Portable
Never lug a heavy, clunky laptop around again. At just 18.6mm (0.7") thin and
weighing just 1.5 kg (3.3 lb), the Ideapad 100S is perfect for your on-the go lifestyle.
As well as USB 3.0 and HDMI ports, the Ideapad 100S has a convenient microSD
card slot for easy storage expandability. It also has 802.11 b/g/n WiFi connectivity
and Bluetooth® 4.0, so you can connect to the Internet wherever you are.